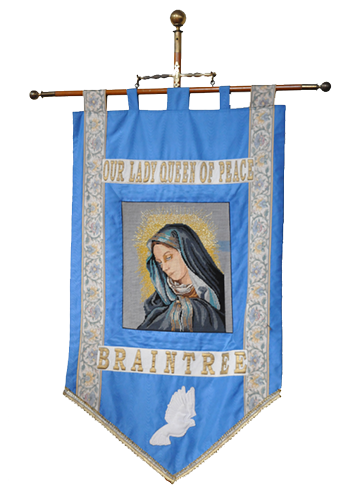 The Church of Our Lady Queen of Peace Braintree was founded in 1939.It is believed to be the last Church to be opened before the outbreak of the Second World War. Our parish is a vibrant community, with a programme of worship, faith development and many activities.
Address: The Presbytery, The Avenue, Braintree, Essex, CM7 3HY
Telephone No: 01376 326779
Email: braintree@dioceseofbrentwood.org
*** UPDATE ***
YOU ARE NO LONGER REQUIRED TO BOOK FOR MASS; YOU CAN JUST COME ALONG.
PLEASE NOTE THAT NEW GOVERNMENT REGULATIONS MAKE THE WEARING OF FACE COVERINGS MANDATORY IN PLACES OF WORSHIP AS FROM 10th DECEMBER 2021 (UNLESS EXEMPTION APPLIES).
---
Mass Times
---
We are still celebrating Mass at the moment.
Saturday Vigil Mass 6.00pm
Sunday Mass 9.00am
Sunday Mass 11.00am
---
Questionnaire
Dear Friends … Questionnaire Result Letter
The results … Questionnaire Responses
---
---
---
---
Perfect Contrition and Sprititual Communion
---
What to do if you cannot go to Confession or receive Holy Communion Because of the COVID-19 virus.
Read More …
---
It takes a whole village
---
As I write this I am at home in Springfield with my Mum and Dad and like so many of us, we are not in our normal routines or usual places of work or study.
Read more …