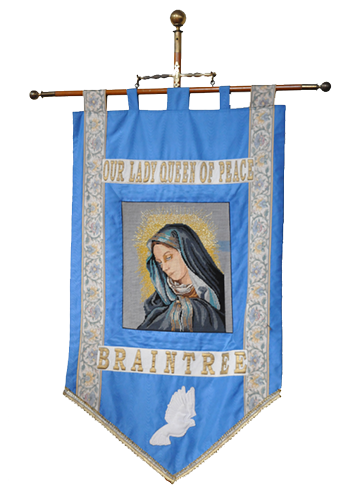 The Church of Our Lady Queen of Peace Braintree was founded in 1939.It is believed to be the last Church to be opened before the outbreak of the Second World War. Our parish is a vibrant community, with a programme of worship, faith development and many activities.
Address: The Presbytery, The Avenue, Braintree, Essex, CM7 3HY
Telephone No: 01376 326779
---
---
CAFOD EMERGENCY APPEAL – UKRAINE
On Wednesday, CAFOD announced the launch of an Emergency Appeal to help the People of Ukraine. And so there will be a Retiring Collection for this at all Masses this Saturday and Sunday. You can also donate on line at: www.cafod.org.uk/News/Emergencies-News/Ukraine-crisis
CAFOD is part of Caritas International which is a world-wide link of local aid agencies. The head of CAFOD's humanitarian response writes: "Our local Ukrainian aid workers and volunteers are on the ground and already responding. They are part of the communities they work with and understand people's immediate needs. Donations will go directly to these local aid workers to provide vital humanitarian aid and safe spaces for thousands of Ukrainian civilians caught up in this terrible fighting".
Could I also commend to you a very moving video on YouTube. It shows Ukrainian Christians praying Psalm 31. The key lines are: "I hear many enemies whispering; terror is all around me…But my trust is in you, O Lord". The full video can be seen at: www.youtube.com/watch?v=gKM3U5TEXaA or search People in Ukraine are finding hope in their faith.
May God bless and support us all at this critical time.
Fr David
---
---
SafeGaurding
---
We are all made in the "image and likeness of God". Given this clear truth of faith, all abuse, always and everywhere, is wrong. It is a serious Crime.
Parish Safeguarding Officer is Jacqui Leech
Read More …
---
Sacrament of Reconciliation
---
Before Confession
…
During Confession
…
After Confession
…
Read More …
---
Association of Christian Councellor's
---
From the Association of Christian Counsellors in response to the distress and suffering of many people during the Covid-19 pandemic.
Read More …
---
---
---
Perfect Contrition and Sprititual Communion
---
What to do if you cannot go to Confession or receive Holy Communion Because of the COVID-19 virus.
Read More …
---
It takes a whole village
---
As I write this I am at home in Springfield with my Mum and Dad and like so many of us, we are not in our normal routines or usual places of work or study.
Read more …